PE
We believe that an innovative and varied PE curriculum, supplemented by extra-curricular opportunities, has a positive influence on the concentration, co-operation, attitude and achievement of our pupils. Children are encouraged to develop their own skills, take on leadership roles, be a part of a team, and represent the school at cluster events. These events also facilitate the developing of relationships with children in the same year group, who will be transferring to the same secondary schools.
During the 2016/2017 academic year, every child in years 4,5 and 6 represented the school at a competitive event at least once. We took part in events organised within our cluster, and also those initiated by local sports clubs. The year 4's in particular had a fabulous afternoon of sport at the local golf club, and won the tri-golf tournament. We have just purchased a new multi sports kit, for children to feel a sense of pride when representing school.
Our KS2 children have a weekly one hour PE lesson, which takes place at school, on the playground or field. In the case of inclement weather, we travel to Bolton Abbey Village Hall. This session is taught by our specialist PE teacher, with TA support. We cover a wide curriculum, aligning our teaching to the various cluster events, alongside the teaching of health related fitness and gymnastics. Junior PE is further enhanced by Rugby and Dance coaches.
The KS1 children have a weekly PE lesson in the school hall, or outdoor facilities. A wide variety of PE equipment is available to the children at breaks and lunchtimes.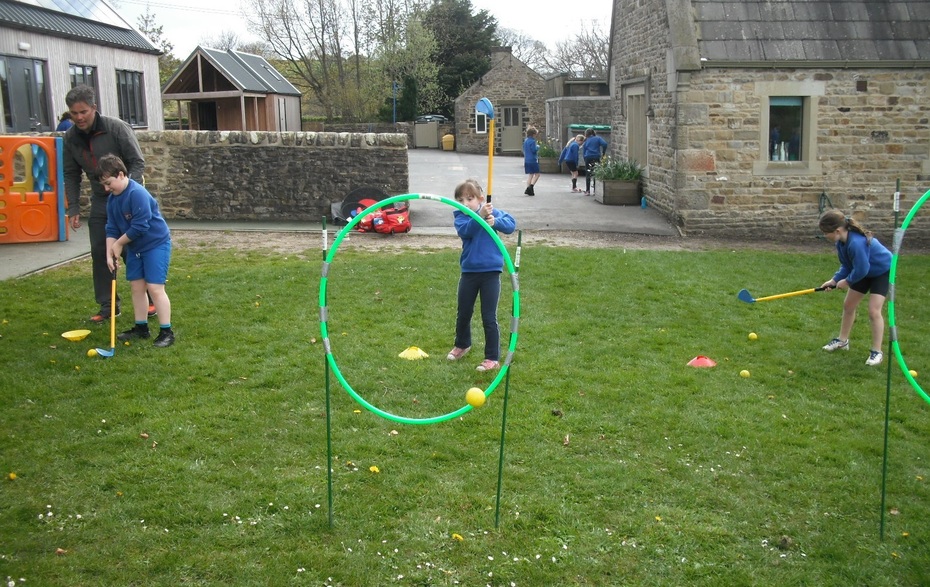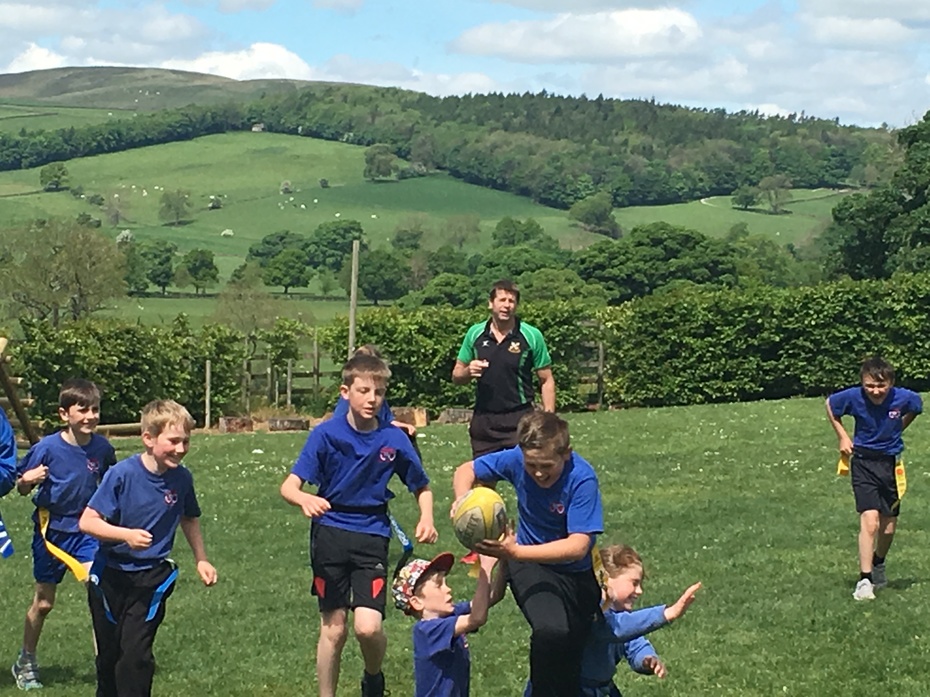 Our children make full use of the outdoor space available to them. The field is fully utilised at breaks and lunchtimes for football, cricket and rounders, dependent on the season. In the summer term, mini tennis nets seem to permanently position themselves across the playground. The installation of a Trim Trail has encouraged even the most timid child to climb, balance and jump, and the climbing frame is always full of children hanging in various upside down positions.
We offer extracurricular sports clubs to KS1 and KS2 throughout the academic year. These are very popular, and we have varied the content and provision as requested by the children. This year we had a taster Judo session, which was enjoyed by all, and introduced the children to a new skill. A professional from our local golf club spent an afternoon with the lower KS2 children, playing tri-golf. A morning of canoeing on the local canal system opened up yet another avenue of interest in the most unlikely place, and the opportunity to visit an international tennis tournament, that was on locally, was too good to miss. We want children to view sport and fitness as enrichment to their lives so that they are encouraged to seek it out as a lifestyle choice.
At The Boyle and Petyt, we consider swimming to be an essential life skill, and as such, a vital part of the school's PE curriculum, especially given our location so close to the River Wharfe. All of our KS1 and KS2 children swim every week. They are transported to Craven Swimming Pool, where they are taught by four fully qualified swimming teachers, alongside trained TA's. The standard of swimming overall is very high, and we are looking at ways to support the couple of children who would benefit from further assistance.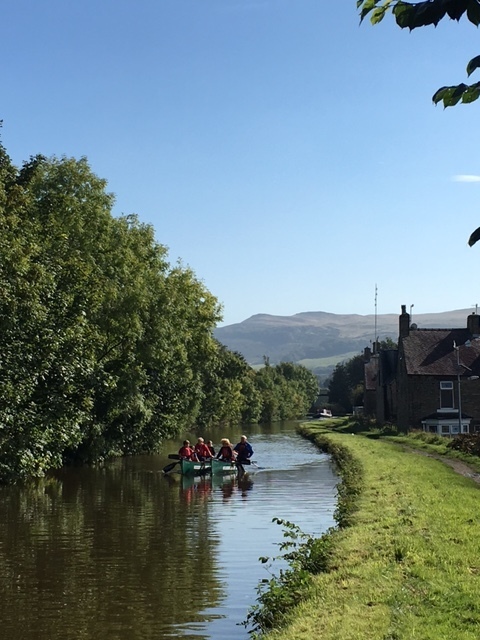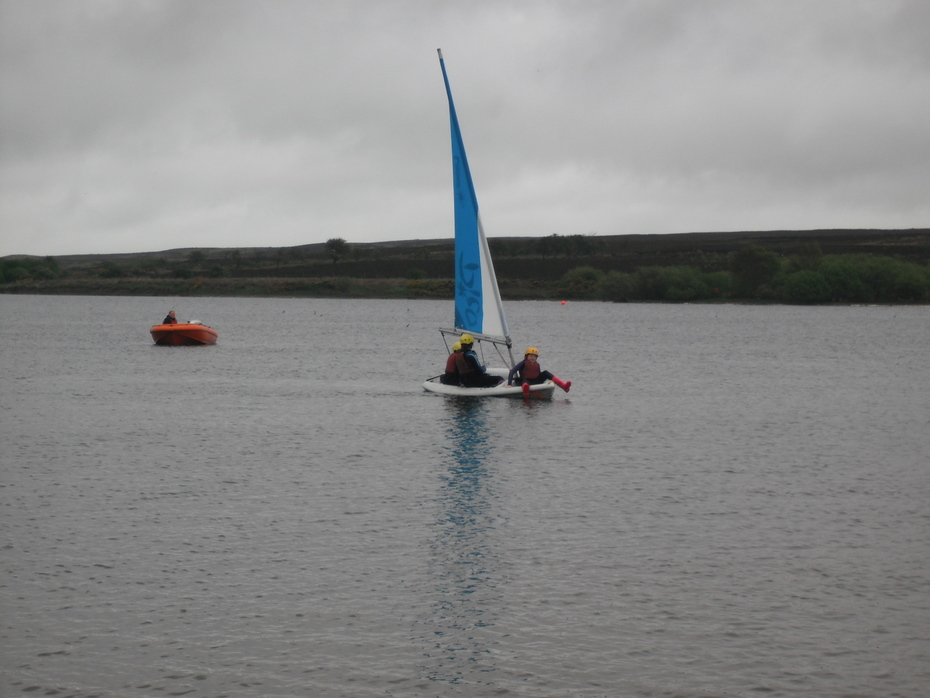 Children in Year 6 take part in an outdoor and adventurous residential visit, which includes the opportunity to experience a wide range of activities, including climbing, sailing, and archery.
We also ensure that every child in year 5 takes the two day 'Bikability' course to ensure that they are confident, and road aware, cyclists.
Our annual sports day takes place on the school field, and consists of a mix of fun and competitive events. The children participate individually, and in teams, for which the older children take responsibility.
Sports' Premium Funding
From September 2013, schools have received Sports' Premium Funding to enable the promotion of sport and active lifestyles. It enables schools to introduce children to sports and activities, led by specialists, that they would not otherwise be exposed to.
During 2017/2018 the Sports' Funding was £16,630
This has been used as follows:
Specialist staffing and support for PE lessons.
Kanga Sport to run extra-curricular sports clubs.
UWRFC Coach
UWS School Sports Co-ordinator for the planning, organisation and running of competitive and non-competitive sporting events.
To supplement transport costs to PE, sports events and swimming.
CPD Training and courses.
To supplement activities on the Year 6 residential.
Equipment.
Playground line marking.
Impact:
We have a very healthy 'can do' attitude to sport and PE in our school. The Sports Funding has enabled us to increase the number of different and new experiences that are available to the children.
For example, a half term block of Street Dance for KS2, culminated in a 'flash mob' performance, leaving all the children buzzing. Staff and parents alike were entertained on a freezing winters afternoon at the school gate.
Every pupil who has left in year 6 has far surpassed the National Curriculum requirements for swimming, as we see it as an important life skill. We work very hard with focussed teaching for any children who are not making progress in this area, or who have joined us as non-swimmers late in their primary school years. As such, the Sports Premium has played an important role in our ability to continue this programme. We also have a good proportion of children that we encourage to try out for local swimming clubs, and the success of some of our older children is proving to be a catalyst in this area.
Because we are a small school, our sports teams are often pretty much the whole year group. Having the funding to participate in as many local competitions as we do encourages the children to learn a different skillset than they would in the classroom. Some of the children who try to pass beneath the radar with their school work are suddenly pushing to the forefront and taking on leadership roles. This has given them more confidence in the classroom, as they have been in a situation where they have felt on more of an even footing with their peers. The children have learnt cooperation and teamwork, and also to take responsibility for their actions. They have taken pride in their successes, but have also learnt to be stoic in defeat, and learn from their setbacks.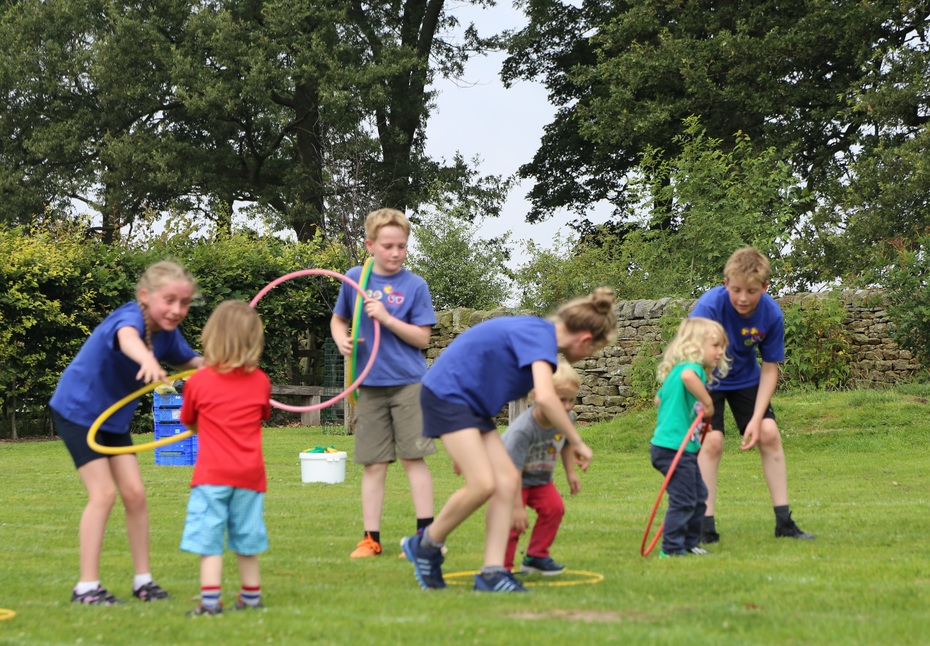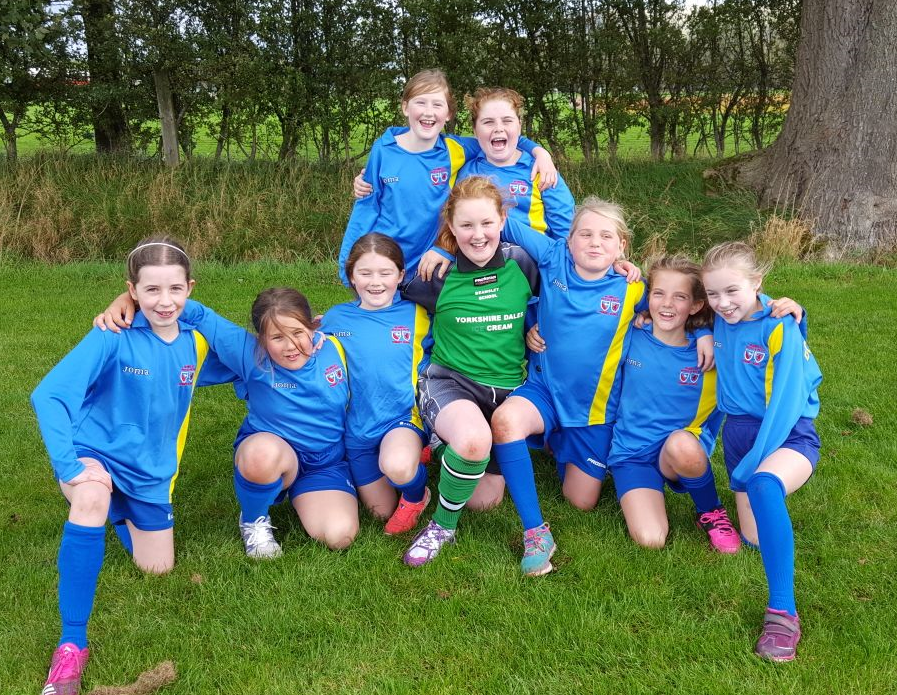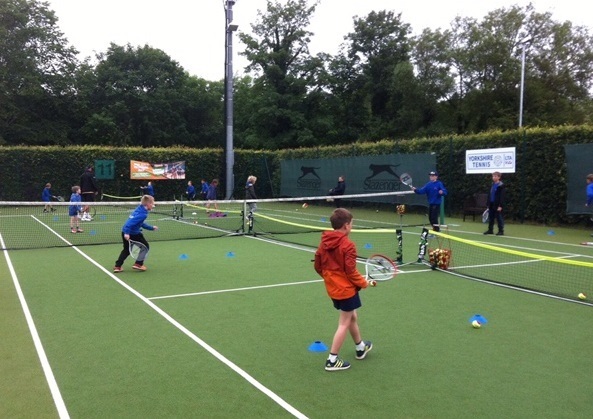 Sports Premium Funding 2015/16
The Sports Grant for this year totals £8,247. We aim to use our PPSG in the following ways:
To continue to provide additional opportunities for more able and talented pupils in sport and direct them towards further competitive opportunities

To increase participation for all children from Foundation Stage to year 6 in sporting activity after school and inter school sport

To subsidise transport to village hall, swimming pool and other sporting venues

To buy iPads and Coaches Eye app to improve sports skills further and impact on other areas of the curriculum

To employ a School Sports Coordinator to plan and organise cluster competitions and festivals

To utilise facilities at The Craven Swimming Pool

To fund two specialist coaches to develop the skills of children and staff
Sports Premium Funding 2014/15
The school grant is £8,250 for 2014/15.
During this school year we aim to use our PPSG in the following ways:
To continue to employ specialist teacher to deliver high quality PE and develop teachers' expertise

To provide additional opportunities for more able and talented pupils in sport

To establish strong and sustainable partnerships with local community sports clubs e.g. Bolton Abbey Cricket Club

To continue to offer high quality after school sports clubs and an increase in their uptake

To buy iPads and Coaches Eye app to improve sports skills further and impact on other areas of the curriculum

To employ School Sports Coordinator to plan and organise cluster competitions and festivals

To subsidise transport to village hall, swimming pool and other sporting venue
Impact of Funding Following Review September 2015
Pupils' have continued to display motivation in improving their performance during lessons and cluster competitions
iPads and Coaches Eye app were not purchased in this academic year as awaiting whole school technological developments.

At least 80% of children have taken part in after school clubs

The school has achieved the Bronze Sainsbury's School Games Award
Sports Premium Funding 2013/14
The school grant was £8,245 for 2013/14.
This has been used to support a wide range of strategies to promote pupils' healthy lifestyles, physical well-being and participate in sports activities including traditional sports competitions:
To provide new gymnastics equipment and secure storage at the village hall

To employ specialist teachers to provide quality teaching and staff professional development

To employ staff to deliver after school sports clubs

To subsidise transport to and from the swimming pool and the village hall

To employ School Sports Coordinator to plan and organise cluster competitions and festivals
Impact of Funding Following Review June 2014
All pupils have been able to access a wider range of PE activities and sport improving their skills and sportsmanship

School staff are well equipped to deliver high quality PE lessons

Pupils' are becoming fitter, healthier and are displaying greater motivation in improving their performance

Pupils' have greater understanding of the importance of healthy lifestyles
Find our school results here